If you tend to view writing catchy headlines more as an afterthought than as a key component of your content strategy, it's time to reconsider. Headlines can make or break your website traffic goals, your social shares, and just about every content metric. After all, about five times as many people will scan the headline as read the article. That means if your headline doesn't capture interest or drive action, your audience is incredibly likely to move on to another piece of content.
Not sure how to take your headline strategy from boring to thrilling? Find out how to write catchy headlines and snag 50 samples to use as a template.
Kick Things Off With a Working Title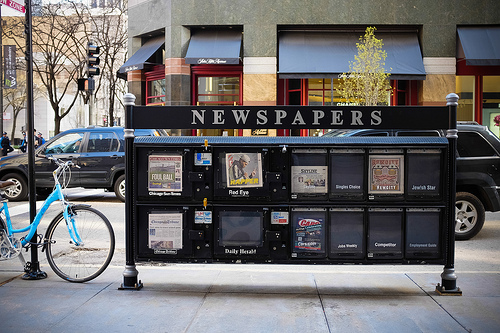 Image via Flickr by Sean Davis
Whether you're dashing off a quick blog post or you're writing an in-depth article, creating content without a title can be challenging. Try starting with a simple working title that's specific enough to guide your content creation process. Keep in mind that the first draft won't be the same as the final product, and then use the next four steps to turn the working title into the ideal headline.
Do Keyword Research
To perfect the title, you'll need to do keyword research. Always strive to place the keyword you want to rank for toward the beginning of the article, but take care to do so in a way that reads smoothly without sounding awkward. This strategy can help your content rank with search engines and can also capture your readers' attention on social media. Using keywords can also help drive home your main point quickly.
Use Compelling Words
When writing catchy headlines, always strive to use compelling words. Use numbers to convey value, and try alliteration to enhance readability. Replace overused adjectives with descriptive words that help you stand out and say something unique. Ask questions, include calls to action, and don't hesitate to incorporate strong language that gets attention. While you can certainly include negative language in your headlines, refrain from making every title negative unless it specifically reflects your brand values.
Keep It Short
Since optimal headline lengths depend on whether you're tracking social media shares, email click-throughs, or search engine results page (SERP) ranks, you won't find a definitive number of characters or words for the perfect headline. However, you should always strive to keep your titles short and sweet yet completely unique. In most cases, headlines under 55 characters and around six words tend to perform best on all accounts.
Make It Accurate
No matter what you do, always strive to ensure that the headline describes the content accurately. While that doesn't mean you can't incorporate a teaser that's sure to capture your audience's attention, it does mean that your headline can't be dishonest. Naturally, inaccurate headlines are likely to disappoint and confuse your audience, which can impact your brand's trustworthiness and increase your bounce rate, which may make your website appear to offer less value than it should.
50 Samples of Catchy Headlines
Creating an original headline for each piece of content doesn't have to consume tons of time. Use the following 50 samples as templates for your own catchy headlines.
Catchy Headlines for Lists
List-style articles offer easy ways for your audience to learn about a topic, but that doesn't mean they should have basic headlines. Experiment with these next-level ideas:
# Tools You Need for X
# Simple Formulas for X
# Essential Examples of X
Try These # Strategies for X
# Easy Places to Find X
# Questions to Ask When You're Doing X
# X Every Y Should Have
# Habits of Successful X
# Signs You Should X
# Must-Have Trends for X
Catchy Headlines for In-Depth Articles
Whether you're offering expert-level insight into your niche or you're getting ready to publish a massive guide to an in-demand topic, you want to position your content as the definitive guide. Use these headline templates to drive results:
Everything You Need to Know About X
X: The Definitive Guide
The Complete Guide to X
How I Did X: The Complete Guide
# Essential Steps to Doing X
# Most Effective Strategies for X
# Foolproof Tips for Doing X
What Is X? The Only Guide You Need
How I Did X and You Can, Too
You're Doing It Wrong: X
Catchy Headlines for Groundbreaking Posts
If you want to help your audience make major changes and drive substantial results, you'll need to get their attention first. Try out these head-turning headlines:
# Outrageous Examples of X
# X Mistakes You Can't Make Again
What No One Tells You About X
# Secrets to Doing X
Stop Making These # Mistakes
# Wrong Ways to Do X
How to Completely Reinvent X
# Amazing X to Do Right Now
X: What I Wish I Had Known
Little-Known Ways to X
Catchy Headlines for How-To Guides
Tutorials and educational guides can serve as essential resources for your audience. Use these headline samples to drive interest and shares:
How to Do X and Get Y
How to Deliver X in # Days
An Easy Guide to Doing X
The Only Guide You Need to Do X
The Fast Way to Do X
Stop Doing X and Do Y
Use These # Tips to Do X
How to Do X in # Simple Steps
How to Tell if X
How to Get More X
How to Find X
Catchy Headlines for Infographics
Every great infographic needs a headline that summarizes the concept and attracts attention. Even high-level infographics work best with short, sweet, and eye-catching titles like the following:
X vs. Y
How X Compares to Y
Why X Beats Y
# Tips for X
# Best X Tips Ever
X: Dos and Don'ts
# Things You Didn't Know About X
How to Do X
Best Ways to Do X
The 10 Commandments of X
Don't let tedious headlines drive your audience away. With these five helpful tips and 50 attention-getting templates, you can easily take your headline strategy to the next level.