YouTube is a powerful tool for connecting with your customers. From candid interviews with the CEO to compilations of video from the field, YouTube is the ideal option for filming and sharing video. You can share the content across the web, on your social channels, on your blog, and within your email campaigns.
YouTube is also a social network of its own. Strategic businesses develop a large subscription base of people who wait to check out their latest videos.
YouTube isn't easy and can be a tough nut to crack if you're not familiar with how the platform works. Follow the nine YouTube best practices below to build your presence and connect with audiences.
Commit to a Regular Posting Schedule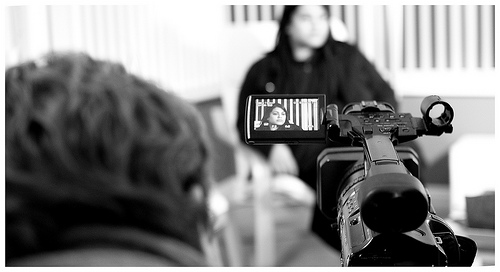 Image via Flickr by jsawkins
Your audiences will tune in to your content regularly to see what you post, so it's important to create a schedule and stick to it in a cadence that anyone can follow. Some channels post monthly, while others post weekly. It does not matter how often you post as long as your fans can track the expected next release of your video content.
Both video content creators and bloggers are guilty of publishing in waves. They realize it has been weeks since they last published, so they make it a priority and publish four or five videos or articles in a week or two. Then they get busy and don't post again for two months. Audiences who tune in during this time leave and forget about you. It's better to develop a cadence and post on a regular basis, even if you create your content all at once and schedule it, then to set expectations for your audience and then fail to meet them.
Let Your Audience Know If You Stop Posting
If you do get into a publishing groove and need to stop — either because your channel is seasonal or because you need to focus on other elements of your business — let your audience know. If possible, give them an idea when you will resume sharing content and encourage them to subscribe to receive updates. This way, people won't leave your channel because they think it has been abandoned for good.
Make Sure Each Video Ties Back to Your Overall Goals
Your content should be created with a purpose, not because someone on the management team wants to have a YouTube account. During the ideation process, come up with creative ideas for video content, but make sure they tie back into your overall brand goals and vision. For example, under each idea, you could list:
The product, service, or department that the video will support.

The call to action associated with the content.

The KPIs and metrics you will use to measure success.
This list will prevent you from getting carried away with creative ideas that may be fun, but not useful for the organization.
Add a Call to Action to the Video
While adding a call to action may be second nature on blog posts or email blasts, a surprising number of companies forget about it in the video development process. If you take the steps to write out your goals and objectives as the section above suggests, you can take the time to add a call to action within your video, in the pop-up text boxes found on YouTube content, and in the description. A few YouTube CTAs include:
Subscribe to your YouTube channel for more updates.

Like or comment on your post.

Like your social media pages for more branded content.

Visit your website to explore a product or service.

Sign up for a consultation or test appointment on your website.
You can use your YouTube videos to grow your subscription base and overall social strategy, or you can use them to drive sales and support other marketing initiatives. Either way, you should have at least one CTA per video and at least one way to measure the results and actions taken from that call.
Diversify Your Video Content Goals
Your blog and social media channels likely have different content goals, and your YouTube channel is no exception. Some pieces will be highly shareable and will encourage audiences to comment and send to others, while other videos will be more in-depth with the goal of driving sales and providing value. As you develop your YouTube video strategy, consider the different types of videos that can achieve these goals.
YouTube makes it easy to curate playlists with your content. You can create your own categories and sort videos within them. This organization keeps video content separate and makes it easy to reach different target audiences. Instead of creating multiple YouTube accounts to reach different audiences or meet different needs, you can sort playlists so that your viewers see only the most relevant information.
Go Into Detail About Your Products and Services
YouTube videos don't have to be entertaining alone; they can also be educational. Your audience is likely to turn to your video content throughout the buying process, but especially at the end.
One study found that 73 percent of customers were more likely to buy a product or service after they watch a video about it. Further, 96 percent of consumers found video to be a useful tool during the buying process.
Video provides information that you can't get in photos or in product descriptions. If a picture is worth a thousand words, the video is likely worth thousands more. Don't be afraid to create content with a focus on specific products to emphasize how they can help buyers. You may see a jump in your website conversion rate because of it.
Get to Know YouTube's Ranking Factors
YouTube follows a similar algorithm as Facebook and Google. Simply having a great video is not enough. Videos are listed based on the likelihood that audiences will find what they are looking for and keep watching. Without this algorithm, viewers are likely to bounce, and YouTube's traffic will decrease.
Understanding YouTube's ranking factors can help you create content that ranks well. With this information in mind, you can generate more views, more subscribers, and more overall success. A few of these factors include the following:
Video Title, Keywords, and Description: The more detailed and descriptive your videos are, the better. Include target keywords in your title and write them in the ways you think viewers would search. Do your keyword research to see where opportunities exist on YouTube and how your video content can make a difference.

Video Quality: YouTube checks to make sure the video offers HD quality and the information is exactly what audiences need. If YouTube promoted low-quality, low-value video, then no one would watch any videos on the platform. It may be in your company's best interest to invest in professional filming if you want to make sure your videos get noticed.

Viewing Time, Viewer Count, and User Experience: Ultimately, it's up to your viewers to determine where your videos fall in the rankings. If your video footage has high bounce rates and a significant number of down votes, then it won't rank well. Similarly, if viewers are not clicking on the videos to watch in the first place, then YouTube won't waste space giving it more exposure.
While some of these factors are out of your hands, it's possible to create descriptive, high-quality videos with valuable content to put yourself in the best position possible to grow your views.
Actively Respond and Engage Your Views
YouTube celebrities attract followings for a reason: They build communities with their viewers and connect with them on personal levels. Make sure you respond to comments and questions from your subscribers and show them that you are running an active account. If possible, try to put a face to your social media account so that people feel like they are talking to a fellow human, not a company.
You need to keep up your responses even if you stop posting for a period of time. This engagement is another way to confirm that the account is still active and worth subscribing to.
Keep Your Video Content Professional
Video is an essential part of internet culture and a popular marketing tool with many professionals. More than 300 hours of video are uploaded on YouTube every minute, and the 30 million daily visitors watch 9 billion videos between them.
One way to cut through the noise is to focus on professionalism. Facebook and Instagram offer opportunities to post a live video or candid updates, but YouTube gives you the time and space to edit what you want to post. You can create a variety of different video types, including tutorials and animated video that wows viewers.
Always make sure you put your best efforts forward on YouTube, even if it means investing in quality video equipment or outsourcing the creation process. CopyPress specializes in digital media practices and has honed our YouTube best practices and video infographic creation over the past several years. We can help you create a video series that wows your customers.
You don't have to become a YouTube star or viral sensation to benefit from online video content. With the right marketing process, you can grow your audience and drive traffic to and sales for your brand.